Jumbo Loans
WHAT IS A JUMBO LOAN?
A jumbo loan, also known as a Jumbo Mortgage, is a variety of financing loans that exceed the Federal Housing Finance Agency's limits. A jumbo loan, unlike conventional mortgages, is not eligible for purchase, guarantee, or securitization by Fannie Mae and Freddie Mac. Jumbo mortgages are designed to finance luxury properties or homes in highly competitive local real estate markets. They have unique tax implications and underwriting requirements. These types of mortgages are gaining popularity as the housing market recovers from the Great Recession.
A jumbo mortgage is a mortgage that is used to finance properties that are too costly for a traditional conforming loan. According to the Federal Housing Finance Agency, $548,250 is the maximum amount a conforming loan can be. A jumbo loan is required for homes that exceed that local conforming loan limit. Hence, they are also known as non-conforming conventional mortgages. Fannie Mae or Freddie Mac cannot guarantee these loans, so lenders can not protect themselves from loss if borrowers default. They can be offered with either an adjustable or fixed interest rate and a range of terms.
For primary residences, second homes, vacation homes, or investment properties, jumbo mortgages can be obtained in various terms, including adjustable-rate and fixed-rate loans. Jumbo loans usually come with a higher interest, stricter underwriting requirements, and a larger down payment than standard mortgages.
The value of a Jumbo Mortgage varies from one state to the next. Although it is often not changed, the FHFA determines the corresponding loan limit for different states each year. For loan limit calculation purposes, the FHFA has additional provisions for locations not within the United States.
HOW DOES A JUMBO LOAN WORK?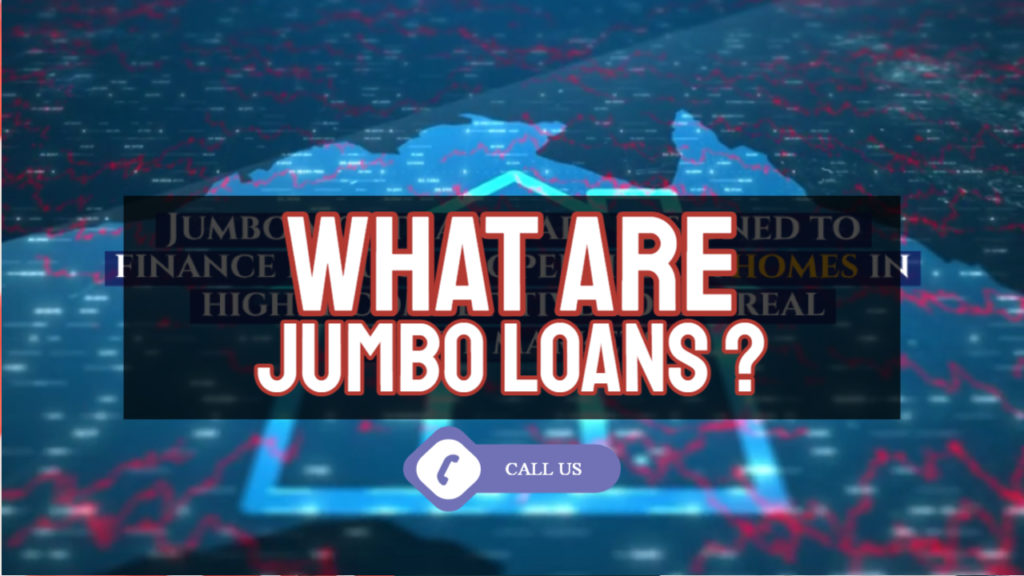 A jumbo mortgage is required if you are serious about buying a home with a price tag close to half a million or more. You will have to meet much stricter credit requirements if you want one. Because there is no guarantee from Fannie Mae and Freddie Mac, jumbo loans are riskier for lenders because where there is more risk, there is more money involved.
As with traditional mortgages, the minimum requirements for a Jumbo loan have become more stringent over the years. You will need to have a high credit score of 700 or higher and a low debt-to-income (DTI). To be approved for a jumbo, your credit score must be at least 700, and your DTI should not exceed 43% and preferably be closer to 36%. Non-conforming mortgages aside, jumbo loans must still conform to the Consumer Financial Protection Bureau's definition of a "qualified mortgage," a lending system with standardized terms and rules such as the 43% DTI.
If you choose a 30-year fixed-rate mortgage, you will need to show sufficient cash to pay your monthly payments, which are likely to be very difficult. The loan amount will determine the income and reserve requirements. All borrowers must provide 30 days worth of pay stubs and W2 tax forms dating back at least two years. For self-employed borrowers, income requirements will be higher: 2 years of tax returns and 60 days of bank statements. To be eligible, the borrower must have provable liquid assets and sufficient cash reserves to cover six months of mortgage payments. All applicants must also provide documentation regarding all loans and evidence of ownership of non-liquid assets, such as real estate.
WHY A JUMBO MORTGAGE?
A jumbo loan is a way to get financing to purchase a more costly house than usual. These loans can be used for primary residences as well as investment properties or vacation homes. Housing is considered a significant investment, and jumbo loans are preferably offered to the most creditworthy people. Since the money is being used to invest in their businesses, Jumbo Mortgage is lucrative for potential investors.
Even for jumbo loans, rates are still meager, and it might make sense to buy a home today with a loan with a jumbo lender.
ELIGIBILITY FOR JUMBO LOANS:
Because jumbo loans are riskier and larger, lenders have to be stricter in their underwriting requirements.
High Credit score: To qualify for a Jumbo Loan, Lenders might require that your FICO score be more significant than 700 and sometimes as high as 720.
Low ratio of debt-to-income: To ensure that you are not over-leveraged, lenders will consider your debt-to-income ratio (DTI). However, they might be more flexible if there is much cash. However, some lenders place a hard limit on DTI at 45%.
Cash reserves: A jumbo loan will be granted to you more often if there is sufficient cash in the bank. Lenders will often ask borrowers applying for jumbo loans to prove they have enough cash reserves to pay one year's mortgage payments.
Documentation: You will need to provide extensive documentation to prove your financial health, which may be more than you would need for a conforming loan. When applying for a loan, you should have all your tax returns, W-2s, and 1099s. You will also require bank statements and information about any investments.
Appraisals: Some lenders may ask for a second appraisal for the property that you are looking to buy.
For jumbo loans, lenders prefer a higher credit score than conventional mortgages. Lenders will choose a debt-to-income ratio of between 43% and 36%. Banks may be concerned about the higher loan amount for a jumbo mortgage. They might ask for proof that sufficient reserves funds such as jewelry or savings to quell their anxiety which will help a lender prove that you can repay your loan.
A larger down payment is also required. Lenders will often accept as little as 3% for a home loan. Personal finance experts recommend that you aim for at least 20%. Lenders will take anywhere from 15% to 30% down for jumbo mortgages. Additional appraisals might also be necessary.
JUMBO LOANS VS. CONFORMING LOANS:
The principal difference between a conventional loan and a jumbo mortgage is the amount of the loan.
The most common buyers of conforming loans are Fannie Mae or Freddie Mac, which means they must follow specific guidelines and restrictions. However, Jumbo loans are not available and can be obtained from private lenders.
If you are looking for a loan that is larger than the local limit on conforming loans and you don't have enough cash flow, jumbo loans might be an option.
Jumbo loans are considered non-conforming mortgage loans compared to conventional mortgage loans. They are, therefore, generally more difficult to get.
The only place jumbo loans differ from conventional loans is when the mortgage loan has ended. The homebuyer will need to reserve jumbo loan reserves, also known as post-closing liquidity, which can equal up to 12 months of the home payment. (The higher the borrower's credit score and down payment, the smaller the borrower must set aside a cash reserve.)
The closing reserve can be waived in some instances if the borrower of a home loan has a low household debt to income ratio or if your down payment is extremely high.
Other factors that distinguish jumbo loans and conforming loans include:
Heftier down payment: Low down payments are expected for conforming loans. A minimum of 20% down payment is required for jumbo loans, although some lenders may allow as little as 10%.
Potentially higher interest rates: Depending on your financial situation and the lender, jumbo mortgage rates might be slightly higher than conforming loans. Many lenders offer jumbo loan rates comparable to conforming loans. Some may offer slightly lower rates, depending on market conditions.
Increased closing costs and fees: Jumbo loans have higher interest rates due to the additional qualification steps and more significant loan amounts.
JUMBO LOAN RATE:
Although jumbo mortgages were once subject to higher interest rates than traditional mortgages, this gap has closed over the past few years. The average annual percentage rate (APR) for a Jumbo Mortgage is almost the same as conventional mortgages, even lower in some cases.
For example, Wells Fargo, a financial services company, charged a 4.092% APR on a 30-year fixed-rate conforming loan and 3.793% on the same term for a jumbo loan.
Although the government-sponsored entities cannot manage them, jumbo loans are often securitized at other financial institutions. Because these securities carry greater risk, they trade at yield premiums to conventional securitized loans. The loan's interest rate has reduced this spread.
DOWN PAYMENT FOR A JUMBO LOAN:
Over the years, down payment requirements for jumbo loans have been less stringent. Jumbo mortgage lenders require home buyers to pay 30% of the purchase price for jumbo mortgages (compared to 20% with conventional mortgages). This number has dropped from 10% to 15%. There are many benefits to having a larger down payment than for any mortgage. It includes the ability to avoid paying the 20% down the amount required by private mortgage lenders.
WHO SHOULD GET A JUMBO LOAN?
The amount you can be eligible to borrow will completely depend on your assets, credit score, and the property's actual value. These mortgages are most suitable for high-income earners earning between $250,000 to $500,000 per year. This group is called HENRY, which stands for High Earners Not Rich Yet. These are people who make a lot but do not have millions of dollars or other assets. Although an individual from the HENRY group may not have the financial resources to buy a new expensive home with cash, they have better credit scores than average homebuyers and have more established credit histories. They have a more significant number of retirement savings. They are more likely to have contributed for a longer time than those with lower incomes.
JUMBO LOAN SPECIAL CONSIDERATIONS:
You do not have to take out a loan just because you might be eligible for one. If you expect it to provide you with substantial tax breaks, you should not. As long as you itemize your deductions, you are likely to be aware that your mortgage interest can be deducted from your taxes for any year. You probably didn't have to worry about the IRS cap on this deduction, which was reduced by the Tax Cuts and Jobs Act. Anyone who obtained a mortgage after December 14, 2017, or earlier may deduct interest up to $1,000,000 in debt, which is the same amount as the old limit. For home purchases made after December 14, 2017, the maximum amount you can deduct is $750,000 for mortgage debt. You do not get the total amount if your mortgage is more than $750,000.
For example, if you plan to take out a $2,000,000 jumbo mortgage with $80,000 per year in interest, you can only deduct $30,000 of the interest on the first $750,000. So, you are only getting a tax deduction for 37.5% of your mortgage interest, which means that you need to be careful when borrowing and carefully review the numbers to determine your tax benefits.
Due to the same tax bill, the state and local tax deductions are limited to $10,000 per year, which means that a high-taxed property will cost you more to buy. Another strategy is to compare terms and see if a smaller conforming loan combined with a second loan might be better for your long-term finances.
JUMBO LOAN CASHOUT REFINANCE REQUIREMENTS:
You can borrow cash with a refinance jumbo loan if you own a primary investment property or vacation home. There are limitations on the amount of money you can withdraw, depending on the equity in your home.
No matter how much cash you refinance, it is essential to leave some equity in your home. Depending on the property type, you will need to go between 10.01% and 30% equity.
PURCHASING OR REFINANCING INVESTMENT PROPERTIES USING A JUMBO MORTGAGE:
Jumbo loans can be used for primary residences. They are also a viable financing option for investors looking to buy or refinance high-end properties. Not all lenders offer jumbo loans for investment or secondary properties. They may have particular requirements and loan limits. Do your own research and gain more insight into the mortgage before making a decision.
VETERAN AFFAIRS JUMBO LOANS:
If they are interested in buying homes that exceed the loan limit for their area, veterans or active military personnel can be eligible for VA jumbo loans.
The requirements for VA Jumbo loans are more stringent than those for traditional VA loans. VA loans require borrowers to have a minimum FICO score of 620. For conforming loans, veterans do not need a down payment. But for VA jumbo loans, this is not true.
Jumbo loans for Veterans require borrowers to have a minimum score of 640. They may also need to make a down payment. The median credit score needed to be approved for a VA Jumbo Loan is 740. You can make a 5% down payment with a 680 median FICO score.
The down payment for a home with a median FICO score of 640 is 10%.
It is important to remember that different lenders might have separate policies. Other down payment guidelines are applicable if you have an impacted entitlement, which means you may have partial entitlements but not the entire amount. Talk to a Home Loan Expert, Todd Uzzell, today to know more!
RISK FACTORS RELATED TO JUMBO LOANS:
Lenders are more likely to be sued by jumbo mortgage loans than they are for credit quality or size. Because a jumbo loan can default, it could be more challenging to sell a luxury home quickly at a total price.
Luxury properties are more susceptible to market highs or lows. Lenders prefer to receive a larger down payment from jumbo loan applicants because of this.
Many lenders might require two appraisals for a jumbo mortgage loan because jumbo home prices are more subjective and may not be as quickly sold to a principal borrower.
ADVANTAGES AND DISADVANTAGES OF JUMBO LOANS:
Advantages of jumbo loans:
More money. A jumbo loan offers you the chance to borrow more money to buy a property of high quality.
Low down payments. Jumbo mortgage loans have low down payments, which is a departure from conventional mortgages. Conventional mortgage loans require a 20% down payment. Jumbo loan down payments is typically as low as 5%. 10% is most opted out.
The interest rates on jumbo loans are competitive. In recent years, jumbo loan interest rates have fallen and are slightly lower than what a borrower would find for a conventional mortgage loan.
You will have much flexibility. There are many options for jumbo loans, giving borrowers more flexibility to choose the best mortgage. A 30-year fixed-rate jumbo loan is available to borrowers. Or, they can select an adjustable-rate mortgage. Jumbo loans offer flexibility for those who want it.
Cons of Jumbo Loans:
A solid credit score is essential. A 660 FICO credit score or less will prevent you from getting a jumbo loan. You may be eligible for a jumbo loan if you can make a higher down payment.
A high income is required. Lenders often limit jumbo loans. They will need you to show proof of a high annual income and substantial personal assets.
Cash must be kept in reserve. You might be asked to set aside up to 12 months' worth of mortgage payments to close your jumbo mortgage loan deal. If the borrower is in severe financial trouble, lenders may ask you to reserve cash.
TIPS ON GETTING JUMBO LOANS:
A jumbo mortgage is more complicated than a conventional loan due to the more considerable loan amount and stricter lending criteria. If you are creative and disciplined, it is possible to get a jumbo loan.
Get multiple interest rates from various lenders: Jumbo loans are more expensive than conventional mortgage loans, so any savings on rates can be significant. A difference of just half a percentage point in interest rates on a $700,000.00 jumbo loan at 4.375% and 4.875% could save you $75,000 over the 30-year term.
Keep a check on your credit score and work towards improving it: To get a Jumbo Loan, you will need to have a strong credit score. Before you apply for a jumbo loan, check your credit score.

Check your credit report for errors, and report them to the primary credit reporting agency that listed it – Experian (EXPGY), Equifax (EFX – Get Equifax Inc. Record), or Transunion (TRU – Get TransUnion Report.)
Keep all your financial documents in order: Lenders will typically request your most recent tax returns and proof of employment.

They may also ask for 90 days of bank statements. To ensure you are not overstretched financially, mortgage lenders will prioritize your household debt to income ratio.

The better your DTI is, generally speaking. Most lenders will limit a borrower's debt-to-income ratio to 45%.
Be ready to show a cash reserve: If you can show that you have at least 12 months of mortgage payments saved in cash reserves, your chances of being approved for a Jumbo Mortgage Loan will significantly increase.

You can prove that you have simple bank savings account to do the job. Just make sure to show proof when applying for a Jumbo Loan.
Get your home evaluated: To determine the property's value, lenders may require that a professional appraiser appraises the property you are buying.
IS A JUMBO MORTGAGE LOAN THE RIGHT ONE FOR YOU?
Before you decide whether a jumbo loan is right for your needs, it is essential to consider whether you need one. The maximum conforming loan amount is $548,250.
The figure can rise to $822,375 in higher-cost areas like Los Angeles, New York City, and Hawaii. You should check if a higher down payment is possible if the property is more expensive than the area limit.
If you decide to borrow a more considerable amount of money, you should consider your financial situation. Jumbo loans have a higher monthly payment. You can make higher monthly payments if you can afford them, but you must have a stable financial situation because jumbo loans are for more extended periods of time.
A jumbo loan could be the right solution to help you pay for your dream home. Todd Uzzell, our chief financial advisor, can help you know about all your options better. To discuss your options, fill the form provided on our website and book a virtual appointment!